This is due to come in on 2nd November 2020. There is plenty of information available on various websites such as this https://www.englandgolf.org/handicaps-rules/whs-2020/
Much of the detail of processing handicaps will be handled by your club's handicapping software as now. In future, your handicap will be based on the average of the best 8 of your last 20 submitted scores. Results from all 9 or18 hole individual competitions – strokeplay, stableford or par/bogey- should be submitted, preferably on the day of play. As now, scores from social/recreational play, that have been registered before going out to play, can also be submitted.
At present courses are described by measures of PAR and Standard Scratch Score. Under the WHS these will be replaced by a Course rating and a Slope rating. Instead of your handicap respresenting the number of strokes you will receive, you will have to know your Handicap Index, including the first decimal figure.
Each course will then display a table showing how your handicap index, for the tees from which you are playing, will convert into your Course Handicap.
Next you will need to convert your Course handicap into your Playing handicap according to the format you are playing, as shown below ………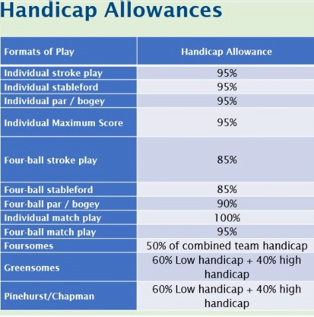 Once again, a table should be available to look up the result. As most of us play most of our competitions on our home course, we will soon get to know our Playing handicap and only need to look things up at another course or when our handicap index changes.
---
Once the software providers have released their WHS versions, it is intended that you will be able to see your new handicap index alongside your current handicap later in the summer and before November.
If you have any questions or would like to arrange an information session for your members later in the year, please do contact me.
Di Hillage
dhillage@btinternet.com or 01736 365390